The Walt Disney Company entertains and inspires people around the world with innovative storytelling. Disney is among the oldest entertainment companies on the planet. The company has built a massive empire since its humble beginnings in 1920 and created a wide range of profitable products.
Walt Disney made his name directing animated short films, starting with The Steamboat Willie Kid before moving on to produce incredible animated feature films, including Snow White and the Seven Dwarfs (1937), Cinderella (1950) and Sleeping Beauty (1959).
Walt's popularity skyrocketed with animated versions of fairy tales, such as Alice In Wonderland (1951), Peter Pan (1953), 101 Dalmatians (1961), Babes in Toyland (1961), and the list goes on. The Little Mermaid (1989) and Beauty and the Beast (1991) are also mega-hits, as is Lion King (1998).
Customers have always been at the center of everything they do. So, whether you're at a movie theatre, a theme park, or at home, Disney's magic will captivate you.
Disney is one of the world's largest companies today. The company's market capitalization was 307 billion dollars as of October 29, 2021. There were 203,000 employees at Disney in 2020.
Let's see what Disney SWOT analysis entails in today's business environment.
First, let's take a brief look at how Disney has structured its businesses.
Main business segments
The company operates in four segments: Entertainment, Parks & Resorts, Cinema, Consumer Products, and Interactive Media. The Media Networks business group includes cable and broadcast TV networks, television producers and distributors, and domestic television stations and radio stations.
The broadcast stations that are part of Media Network include Disney, ESPN, Freeform, and National Geographic.
Theme Parks, Experiences and Products
The parks, experiences, and products segment includes theme parks and resorts in Florida, California, Hawaii, Paris, Hong Kong, and Shanghai; a cruise line; and a vacation club. The company generates most of its revenue from theme park tickets, resort and vacation stays and licensing.
Disney has six resorts and twelve theme parks around the world. In 2019, this segment accounted for 38.5% of total revenue. The segment's revenue has shrunk significantly due to the global pandemic in 2020 and 2021. Approximately 25% of Disney's total revenue will come from this segment in 2020.
Media Networks
Television networks, radio stations, and television production and distribution companies make up the media networks segment. National Geographic, ESPN, and Disney are among their networks. Additionally, there are 8 TV stations and the ABC broadcast network.
Media Networks' revenue in the fourth quarter of 2020 was $7.2 billion. It posted an operating income of $1.8 billion.
Studio Entertainment
Motion picture production and distribution, live entertainment production and licensing, and music production and distribution fall under this segment.
Direct-To-Consumer (DTC) and International
Its direct-to-consumer businesses offer subscription-based video streaming services, including sports and family entertainment. Their channels produce both international and local programs. In addition, they acquire content from other local studios and producers. Streaming services include Disney+, Disney+Hotstar, ESPN+, Hulu, and Star+.
Here's a summary of Disney SWOT analysis. Now let's get into the details.
Strengths
Diversified business
Diversification can be a game-changer. At the same time, it can be risky. Diversification can especially be a tricky move for a company that hasn't fully developed its core business. Sometimes the decision to diversify is made under time pressure without a long-term vision. One of Disney's greatest success stories is its meticulous execution of the long-term diversification strategy.
The company has diversified its core animation business into theme parks, live entertainment, cruise lines, resorts, and TV broadcasting by acquiring or developing strategic assets in the last few decades. Disney doesn't like competition, as we all know. So their diversification strategy is about how they catch up with or leapfrog their competitors.
The characters from its animated movies and other productions make Disney theme parks so popular. The Magic of Disney World results from highly integrated multiple lines of businesses. Your trip to the theme park includes visiting its attractions, staying in the hotels and eating at their restaurants, buying Disney merchandise, meeting the characters, and taking home movies, books, and TV shows.
Walt Disney understood how multiple industries interrelate. So, this strategy was devised from the early days of the company. Disney began licensing pencil tablets in 1929 as a new venture. The Mickey Mouse Club (MMC) was formed to sell Disney products. Even during the war, the company produced training films and educational videos.
The Disney diversification strategy comprises three components.
Horizontal Integration
Horizontal integration is when a company merges or acquires another within the same production value chain. Corporate giants use horizontal integration as a competitive business strategy. By merging both organizations' production lines, it's easier to maximize outputs while achieving higher efficiency. It also increases the overall market power and minimizes competition.
Disney sped up its acquisition strategy in the 90s. The partnership between Miramax and Disney is regarded as their first attempt at a real acquisition. While Miramax is no longer under Disney, it grew from the acquisition. They bought Miramax in 1993 for $60 million. In 2005, Disney sold Miramax for $663 million. A notable Miramax film was The Lord of the Rings.
Disney bought Pixar Animation Studios for $7.4 billion in 2006. Besides expanding its market share, the deal injected a creative vision into its animated movie business. Pixar brought much-needed cutting-edge technology and an innovative mindset to Disney.
They also acquired Marvel Entertainment, Lucasfilm, and 21st Century Fox. Disney is now the owner of Star Wars. The merger with Star Wars has made Disney even more competitive by bringing star wars fans to Disney parks.
Fox Entertainment is another significant acquisition for the company. It gave them the rights to the X-Men, Deadpool, Avatar, Planet of the Apes, Home Alone, Diary of a Wimpy Kid and Ice Age.
Disney continues to grow their empire by buying more companies and integrating them into its business. They are not planning on slowing down any time soon.
Global expansion
A big part of Disney's geographic expansion strategy is its theme parks around the world. Even though these theme parks are similar to the parks in the US, they're tailored to local cultures and institutions.
It owns the most prominent theme park chain globally, comprising 16 theme parks in California, Paris, Hong Kong, Tokyo, Disneyland Tokyo, and more. They have one of the world's most popular cruise lines, the Disney Cruise Line, which has 4 cruise liners, 3 more are under construction.
Vertical Integration
Vertical Integration is a strategy where a company owns multiple stages of production, manufacturing or distribution. The Walt Disney Company has focused on vertical integration for many years. As a result, they can create, market, and sell their products without the involvement of outside companies. This is a common strategy for large entertainment companies.
They have their own toys, movies, music CDs, movies and more. Also, expanding into areas like the bookstores, they regularly publish books for children. Vertical Integration has proven to be an effective tool for companies like Disney. It allows them to sell products and merchandise to the consumers directly, and their profit will increase.
A good example is when Disney produces, markets, and distributes Cars merchandise using their distribution centers and stores. It shows their capability to vertically integrate different value chain segments.
Uniquely strong brand image
Maintaining a strong brand identity over time means adopting the changes needed to stay relevant. However, when implementing changes, the brand image mustn't get diluted. Through its tightly integrated multiple business segments, Disney offers a holistic, memorable and attractive brand experience. Disney's magical experience includes animated movies, theatrical performances, toys, games, books, cruises, and theme parks and resorts.
The Disney brand is known throughout the world, and it has built its image for decades, first through its cartoons and now through theatrical releases. It is one of the best entertainment companies with the best theme parks in the world. The company has kept itself relevant to its customers and met their expectations.
Disney has met the challenge of maintaining its unique band identity over all these different consumer touchpoints. Recently, other members of the Disney family such as Disney +, Hulu, ESPN, Pixar, Marvel, and Lucasfilm have also been instrumental in the brand's success. As a result, the Disney experience is unique for consumers. The same characters are in movies, songs, TV shows, live events, books, and amusement park products.
Admired corporate culture
"You can design and create and build the most wonderful place in the world, but it takes people to make the dream a reality."-.
Organizational culture gives employees a sense of the company's mission and values. Disney is known for its strong culture. As the famous song goes, the happiest place on earth has been a rite of passage for generations of families, young and old alike. However, Disney's success can be attributed to more than fairy tale characters and a clean, safe environment.
The company's incredible customer service is part of a well-planned organizational culture that has been meticulously developed over the years. The corporate culture is based on a deep respect for its customers and for its employees.
Employees are not forced to meet quotas but encouraged to strive for excellence in customer service. In the media, Disney employees are often touted as hard-working and proud of their work. It is a sign of a culture that instills pride in its staff.
Disney doesn't hire anyone and then trains them to provide excellent customer service. Instead, they hire people who already have excellent customer service skills and train them to be exceptional. There are four fundamental human resource strategies adopted by Disney hiring managers to help deliver superior quality.
Hire the right people
Develop people to deliver quality service
Provide effective support systems
Retain top talent
They're one of the top MBA recruiters which shows how good they are at recruiting talent.
Influential creative strategy
The Disney Creativity Strategy is used to enhance their creativity and innovation in the products. There are three important roles in the Disney creativity strategy: the dreamer, the realist, and the critic. These three roles help teams generate and translate ideas into reality.
A dreamer is a visionary who comes up with ideas. A critic tries to drill holes in them by playing devil's advocate. The realist then takes the ideas that the dreamer has given them and turns them into a reality.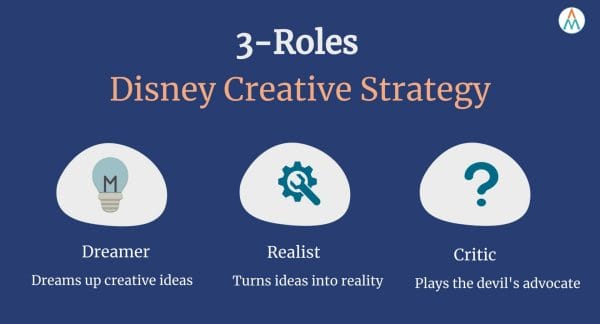 This Strategy helps to bridge the gap between concept and creation. Switching among these three mindsets enables your team to develop creative ideas and action plans. It has been a key strength of Disney's creative teams over the years.
Weaknesses
Business Volatility (Seasonal impacts)
Media Networks' ad revenue is subject to seasonal changes in viewership. For example, revenue tends to peak when families watch family movies or shows together in the fall. However, it goes down in the summer since people prefer outdoor activities.
Disney has implemented seasonal pricing to maximize park capacity utilization and attract more traffic during lean periods. However, Disney World in Florida has seen fewer crowds for years. The summer isn't extremely busy at Disney World, as many believe. This may be because of the higher ticket prices and hotel rates during the summer.
Issue of Sequels, remakes and spinoffs
Disney has always been known for its original content. However, in recent years, the company has produced a lot of remakes and sequels. One must wonder if the media giant has fallen into the same trap as other companies before. It's more about nostalgia than making new content. With all the recycled materials, there aren't many creative ideas.
On the other hand, it makes sense for the company to leverage established brands and characters because of the built-in audience. For example, "The Lion King" was a big hit. But, unfortunately, the same isn't true for some other remakes and sequels. For example, cars 2 and 3 didn't make as much money as the original.
Under Disney, some wonder if Pixar is starting to deviate from what made them so great in the early days. Since the acquisition, Pixar has become more focused on sequels and rehashes. It has become an extension of its corporate parent.
The pandemic contributed to Disney+'s success. However, they still need to catch up with original content before its subscriber numbers start to decline. In addition, to maintain its growth, Disney must keep up with Netflix's investments in original content.
Regional dependence
The parks and resorts segment is becoming increasingly dependent on non-US visitors.
The North American market is Disney's most lucrative market. However, in terms of product sales and movie distribution, the business relies heavily on the United States, Canada, and other English-speaking countries.
This makes the company vulnerable to socio-economic trends in the US. As demographics change, the company needs to appeal to different age groups and a more diverse population. However, the US is a more mature market. To maintain its growth, it needs to focus on the Asia and the Middle East markets.
Challenges with integrating company cultures with large mergers
The process of merging and acquiring large companies can be challenging. Culture management can be a hectic task since it requires continuous engagement at all levels of the organization. Culture integration is even more complicated if the merged companies have a different set of values.
Opportunities
Continuing International expansion
Disney Company is well-positioned to take advantage of the booming film industry in countries such as India and China. These markets show increasingly enormous potential for more growth. The company has successfully entered the Asian markets before. It will continue that trend with Indian films and Chinese movies tailored for their home country's audience.
The amusement park market is expected to reach $99.34 billion by 2027. It represents an 8.8% growth over the forecast period. The segment is continuing to rise steadily around the world despite high ticket prices. The merchandise inside parks carries a premium price tag due to demand from consumers. So, the parks segment will present the company with an opportunity to further expand its global operations.
Capitalizing on the success of Disney +
Disney+ has been the company's shining bright spot during the pandemic, while its theme parks, cruise lines, and movie productions have suffered. As of Q3 2021, Disney+ has 116 million subscribers to its streaming service.
Disney's goal is to turn theme park visitors into Disney+ subscribers — and vice versa. Someday soon, what you watch on Disney+ will shape your Disneyland experience. Disney+ shows are expected to bring a flood of characters into the parks and provide inspiration for new attractions, shows and themed lands. In addition, a new Magic Kingdom Universe will connect Disney theme parks with Disney+ shows.
Disney's goal is to turn theme park visitors into Disney+ subscribers. In the future, what you watch on Disney+ will influence your Disneyland experience. Disney+ shows are expected to bring a flood of characters into the parks and inspire new attractions, shows, and terrains. In addition, a new Magic Kingdom Universe will connect Disney theme parks with Disney+ shows.
Adopting technology advancements and trends
IOT parks and virtual reality
Disney is one of the most forward-thinking companies when it comes to adopting new technology. They are always on the lookout for innovations that will make their parks more enjoyable for their guests – both young and old alike.
Disney is paving the way by introducing IoT parks. The MagicBand has been one innovation that Disney has introduced to make your visit more convenient. With this wristband, you can use your finger to activate your FastPass, pay for meals, and access your Disney resort room.
In addition, the Play Disney Parks app has made it possible for people to extend their Disney experience online. The app allows people to play interactive games while waiting in line. There are games such as Disney trivia and games that can be played while on the ride.
The company has also used artificial intelligence in its parks app that allows people with disabilities to access attractions better by ordering Fastpass reservations through an app that speaks with pre-recorded messages.
Virtual reality
Disney has an entire division dedicated to research and development. Disney's research and development lab, dubbed Disney Imagineering, has been a pioneer in the field of haptic VR jackets for a while now. These jackets mimic the sensation of touching something by pressing the wearer's skin with small vibrations or puffs of air.
In addition to these haptic jackets, Disney is also working on "Force Jackets" to let wearers feel force and pressure in sync with what they see on their screens.
The Force Jacket is unlikely to be something people will see in their homes for a little while. However, they clearly can make VR experiences far more immersive. Still, they need to be powered by an air compressor and vacuum pump.
Further acquisitions
Walt Disney Company has not slowed down their acquisition pace. After acquiring 21st Century Fox, they now appear to be looking for more sports content. They may be in the market for a new streaming service.
Threats
Impacts of one of a kind global health crisis
The global health crisis that swept across the world in 2020 resulted in a pandemic. The pandemic, which began in Asia, spread quickly to the United States, causing widespread panic and fear. The novel coronavirus (COVID-19) outbreak coincided with an economic downturn, making it one of the worst financial disasters in recent history.
One of the hardest-hit industries by the pandemic was the theme park industry. Many theme parks, including Disney, closed down during the pandemic, costing the industry millions in revenue.
Pandemic affected all of Disney's business segments. Most significantly causing closures of theme parks, cruise ship sailings and guided tours, and retail stores. In addition, Studio Entertainment has had to delay or cancel theatrical releases and stage play performances.
The U.S. theme parks lost $18 billion in revenue in 2020. In addition, the sector lost 125,000 jobs during the pandemic, becoming one of the hardest hit in 2021. As a result, all amusement parks were forced to shut down and stop building new rides and attractions. The industry saw a lot of job losses, and most workers took pay cuts.
The prolonged suspension of some of these businesses may cause consumers to change their behaviour and consumption patterns. We will continue to incur health and safety measures costs to reopen our parks and restart construction projects.
It might take a year or two to reach pre-covid level operations. The general sentiment is that local and regional parks will be the first choice because they're cheaper and close to home.
Ever-increasing competition
Even a diversified entertainment company like Disney faces competition in its various segments. The company competes with TV and cable networks, independent television stations for advertising time and sales. Newspapers, magazines, billboards, and the Internet also compete for the same advertising dollars.
Disney's rivals in the motion pictures industry are DreamWorks SKG, Paramount Pictures, and Universal Studios. NBC, CBS, and Fox compete with Disney in the television industry. It has a rivalry with Six Flags, Cedar Fair, Comcast Corporation (Universal Parks And Resorts), Oriental Land Company Ltd., Merlin Entertainment Group, and Cedar Fair Entertainment Company in the theme park industry. Disney competes with Mattel, Hasbro and Lego in the retail and toy industries.
In the online industry, Disney goes head to head with eBay, Amazon and Netflix. In the book publishing industry, Disney competes with Random House, Penguin Books and Simon & Schuster. Finally, in the music industry, Disney competes with Warner Music Group.
Decreasing profitability
Several factors affect the leisure industry's profitability. Some of them are changes in economic conditions, exchange rate fluctuations, travel industry trends, oil and transport prices, weather patterns, and natural disasters.
Changing Economic conditions can adversely affect demand for entertainment and leisure products and services, resulting in a decrease in attendance at parks and resorts.
Disney Resorts, Disney Cruise Line, and Disney Vacation Club are competing with other forms of entertainment, accommodation, tourism and leisure activities are renowned.
Technology disruptions
Technology plays an increasingly important role in the media and entertainment businesses. As a result, Disney has to respond to new technological trends. For example, the subscriber levels have gone down for traditional cable networks. In general, the television industry is losing viewers at an alarming rate, while more people are turning to the internet and streaming services like Netflix and Hulu for their entertainment.
Technology is changing the ways we consume content. Netflix has exploded in popularity and now has more users than cable networks. Younger audiences are watching less traditional TV and instead are watching YouTube and other streaming services.
Disney's future is very much tied to the future of the entertainment industry and the technology and consumer consumption patterns that drive it.
Conclusion
The company's diversified business model, multi-industry occupancy (hospitality, media, merchandise and amusement parks), outstanding mergers and acquisitions, presence in more than 40 countries and strong fiscal strength are other key strengths. However, it is also a significant weakness that the company needs to survive in a highly competitive market. Strengths and Assets Success Factors: Disney has a seasonal impact on the business, is limited to a target audience, localizes characters due to geographical location, high operating costs for theme parks limit its expansion, and in turn, internal weaknesses within the company can affect the company and its activities.
Further Reading
Disney has been working for years to broaden the appeal of a Disney vacation into something for people of all ages and family situations. Pixar Fest just provides latest example of Disney making explicit that broader focus — in this case, to visiting with friends.
Walt Disney arrived in California in the summer of 1923 with a lot of hopes but little else. He had made a cartoon in Kansas City about a little girl in a cartoon world, called Alice's Wonderland, and he decided that he could use it as his "pilot" film to sell a series of these "Alice Comedies" to a distributor. Soon after arriving in California, he was successful.