Not in the mood to read the full article? Listen to the audio podcast episode below.
What does critical thinking mean to you? The ability to think critically is an important skill to have, but not everyone is good at it. Some people think critically in certain situations, but their thinking becomes muddy in other situations. What's important is that we can all learn this skill, which will help us make sound decisions.
Today's workplace emphasizes data-driven decision-making, which makes critical thinking a skill more important than ever. The skill, however, is also vital to your personal life. We'll discuss the importance of critical thinking in everyday life in this article.
So, what is critical thinking? Critical thinking can be defined as the mental process of analyzing and evaluating ideas and drawing logical conclusions. Before you start to apply critical thinking skills, this article dives deeper into understanding the importance of critical thinking as a soft skill.
Table of Contents
Listen to the audio article
"Why Is Critical Thinking Important?"; listen to the audio cast of the full article on Anchor podcasts.
The importance of Critical thinking explained
It is crucial to think critically in this day and age because so much information is available. To figure out what is true and isn't, you need to think critically and process information.
When you think critically, you make healthy, informed decisions based on facts rather than faulty assumptions. Think about how often you've made a decision based on emotion or gut instinct alone. These types of decisions can lead to unhealthy lifestyles, dire financial situations, unsound investments, and much more.
Success in your personal and professional life depends on strong critical thinking abilities. So how do you improve your critical thinking? Here are some ways that can help you become a better critical thinker. Collectively these reasons illustrate why this skill is so valuable in everyday situations.
1. Overcoming negative thinking
Critical thinking is dependent on self-confidence. You cannot critically analyze anything if you don't believe in yourself to make the best decisions. You have to be able to assess situations and make decisions based on your end goals.
Making progress will be difficult if you are constantly doubting yourself. Low self-confidence makes people make less optimal decisions since they don't think they can achieve better results.
Becoming more confident allows you to think more critically in order to make better decisions. In addition, it negates the negative thoughts we usually have when making a decision.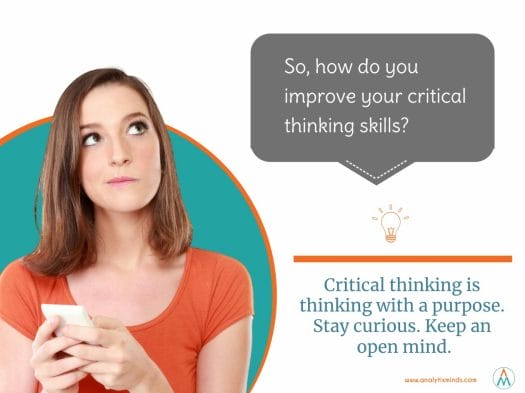 2. Getting over biases
The way people make decisions is influenced by cognitive biases. This is evident when people have to choose between two options. Usually, we believe we come to an evidence-based conclusion on our own since it feels more natural to us. However, it is possible that our personal bias overshadowed the facts and truth.
However, the choice of one decision over another may not have been based on any logical reasoning. Most of the time, we make critical decisions based on biases rather than what is most optimal under the given circumstances.
It is important to be able to gather information about an issue and analyze it critically in order to challenge our own beliefs. This involves looking at your information sources objectively and determining their biases. Also, verifying the reliability of those sources with sufficient proof without depending on the face value.
Only by doing this can one form an informed opinion on an issue and effectively engage with others in meaningful dialogue about it.
3. Improving your decision-making
Our senses allow us to critically evaluate what we see, hear, feel, smell, and read. Our mental faculties get energized and work at their best when we think critically. Whenever something doesn't add up or doesn't seem right, a critical thinker wants to figure out why.
Better decision-making comes from this kind of analytical thinking combined with strategic thinking; it can make people more productive and decisive.
4. Self-reflection
This means looking inward and questioning one's own motivations, values, and beliefs. It allows people to analyze their thoughts more deeply. Although it can be uncomfortable, it is essential for growth. Without self-reflection, we are at risk of becoming stuck in our ways and resistant to change.
5. Evaluating multiple options
Critical thinking can help you solve problems more efficiently by focusing on one thing at a time. When analyzing options, you need to analyze them individually.
For example, Suppose you want to pick up groceries today. In that case, you have to consider everything else you have scheduled for the day, the peak time at the grocery store, the best time to get fresh produce, the availability of parking, etc. So you compare the time slots available to get to the store with these variables.
6. Gathering information from multiple sources
Critical thinking allows you to approach problems rationally. As we discussed earlier, a critical thinker approaches problems differently from those who do not possess this skill, such as gathering all relevant information from several sources before deciding.
It requires creativity, curiosity, and open-mindedness, as we must be open to new ideas and willing to look beyond what we already know. By doing so, we can see what really matters and cut through the noise.
7. Improving your ability to manage emotions
Critical thinking can provide you with effective tools for managing your emotions. You can use the skill to deal with your emotions more effectively. If you know how your emotions influence how you process information, you can learn to control these impulses before they affect your decisions.
The key to making smart decisions is taming your emotions. Consider getting an email from your favourite brand offering a 70% discount. Your first thought may be to at the store on your way home. When you think critically, you will first check to see if you actually need more clothes this month before buying any.
Let's say you were thinking about buying a new jacket. Next, you would see whether jackets are included in the promotion. If they are, you should quickly check if there is any budget left this month to spend on clothing. If not, you might consider waiting until the next promotion is available.
8. Boosting your creativity
It's easy to take a fly-by-the-seat-of-your-pants approach when you don't have all the facts. That leads to mistakes, wasted time, and lost opportunities. With critical thinking, you can separate your emotions from your decisions to make more accurate choices that are more likely to lead to successful outcomes.
Critical thinking helps you to be creative and think in unconventional ways. That could be the reason why some tech companies hire philosophy majors for their product development teams.
9. Building your character
Critical thinking skills can help you build your personality. Therefore, we must train ourselves to think in a structured way in order to develop our critical thinking skills. Although this may seem counter-intuitive, it will improve our judgment and decision-making skills in the long run.
A critical thinker analyzes information objectively and logically. This means considering all the evidence and forming an unbiased opinion. Consequently, you can become more open-minded and open to new solutions that may push you out of your comfort zone.
Critical thinking also helps sharpen our judgment. The more confident we are in our ability to make better decisions, the less likely we are to be swayed by others. This will make our lives more fulfilling.
10. Expanding your mental capacity
It makes us smarter. We're better at remembering information than people who don't use critical thinking skills. We can learn new things faster when we use critical thinking.
Spending a little extra time on something helps us remember it long-term. Our mental faculties improve when we use more mental energy to evaluate and weigh different options for a problem or opportunity.
11. Breaking bigger problems into smaller ones
Breaking down larger problems into smaller ones requires critical thinking. When faced with a huge problem, it can be overwhelming to know where to begin. Taking a step back and assessing the situation critically can help you break it down into smaller pieces.
It will give you a better idea of what you're up against and how to deal with it. Once you have a better grasp of the situation, you can start developing smaller solutions that will eventually lead to solving the larger problem.
12. Learning new things quicker
The process of critical thinking makes it easier to learn new things. It's about looking at things differently and finding out what's really going on. We can learn faster and better this way.
Let's say you're learning a new language. It will be challenging and time-consuming to just memorize the basic syntax. With critical thinking, you can break down the parts of speech into their sub-components and understand how it all fits together. Critical thinking enhances language learning ability.
It is generally considered a necessary skill when learning any scientific subject. The World Federation for Medical Education, for example, has listed critical thinking as one of the medical training standards.
13. Positively improving relationships
Many people view critical thinking as a cold, calculating process. However, it can actually be quite valuable in our personal relationships. By critically examining our beliefs and assumptions about others, we are more likely to become tolerant and understanding.
As humans, we tend to view things through our own limited lenses. However, we can see things from a different perspective when we think critically.
This type of thinking and communication can help build strong relationships and resolve conflicts. Critical thinking can help us build more fulfilling relationships.
Critical thinking vs strategic thinking
A critical thinker is able to think clearly and rationally while understanding logical connections between ideas. They can evaluate arguments and data and make informed decisions. On the other hand, strategic thinking is the ability to see the big picture and understand how the pieces fit together.
When you draw inferences from information, break down facts and ideas based on their merits, or analyze trends over time, that's strategic thinking. In order to be successful, businesses need both critical and strategic thinkers.
While critical thinkers provide detailed analysis to enable sound decisions, strategic thinkers help identify long-term opportunities and challenges. These two types of thinking can be combined to make better decisions that lead to long-term success.
Final thoughts
You can't overemphasize the importance of critical thinking. It is vital that we develop critical thinking in the modern world since it is absolutely essential to both our personal and career growth. It helps us stop seeing people in conflict as adversaries and work together.
Making successful decisions requires critical thinking skills. It entails analyzing information objectively and logically, considering all evidence, and coming to an unbiased conclusion.
It also helps build one's character and promotes creativity. It increases mental capacity and promotes smart approaches.
In addition, breaking down a bigger problem into smaller pieces and understanding how the pieces fit together require critical thinking. The knowledge economy is all about finding solutions to problems. That's why businesses need critical thinkers to find creative solutions.